Tartines de figo e gorgonzola
Thursday June 9th, 2022
Fig and gorgonzola tartines make an indulgent afternoon snack or stylish starter using a handful of fresh ingredients. These sourdough toasts are super easy to make and ready in 15 minutes, just assemble the toasts and pop under the grill for a couple of minutes.
Ingredients
6 thin slices sourdough
2-3 tbsp truffle or flower honey
1 tsp thyme leaves
6 slices gorgonzola
5 ripe figs, sliced into 4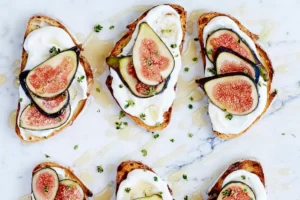 Method
STEP 1
Toast the sourdough. Spread each piece with a little of the truffle honey and sprinkle on some thyme leaves. Lay a slice of gorgonzola on each and squash it down slightly. Flash under the grill for a couple of minutes until the cheese just starts to melt.
STEP 2
Lay the fig slices on top, sprinkle on a little salt, some black pepper and more thyme, grill once again for a couple of minutes and then drizzle on a little more honey.